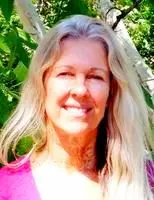 ONLINE THERAPY VIA SECURE ZOOM VIDEO CONFERENCING AVAILABLE
Thank you for visiting Inner Journey Psychotherapy. My psychotherapy and counseling practice is based in Santa Barbara, California. I offer secure video conferencing as well as phone sessions, so I can serve you no matter where you live.
Please read further pages to learn about my background and the client services I provide.
The decision to seek therapy is a significant one, and it's important to find the right therapist for you. Feel free to contact me to determine if what I offer could be helpful to you.
This is an exciting time in the field of psychotherapy and we can expect better results from therapy than ever before. (See the "Current Topics" page for more information.)
I wish for you all the best on your journey of healing and transformation.
~Irene
Note: Visit www.irenekokataybooks for information on my book, "Simply Sacred" available on Amazon Books. Through stories, insights and meditations on life, death and awakening, I share what I learned in my work with death and dying at hospice and on my spiritual travels in India to inspire and inform the reader on their own quest to live a richer, fuller expression of who they are.